To arrange access to the ALTO facility as an experiment participant it is crucial to start the following procedure at least two weeks before your planned visit. If these steps are not followed access will not be possible.
Download the required forms here alto-user-forms
Fill in the badge request form, read and sign the acknowledgement of radiation information form.
Send these forms to altoaccess@ijclab.in2p3.fr along with a valid medical certificate no older than 2 years from the date of the visit along with your date of birth and social security number (EU citizens only). You will receive a confirmation email.
If you wish to reserve a room in the ALTO Guest House please book a room here :
https://rooms.ijclab.in2p3.fr/
On arrival you should follow the instructions in your confirmation email to obtain the access badge and room key if you have booked a room. The ALTO facility and guest house rooms are shown on the map.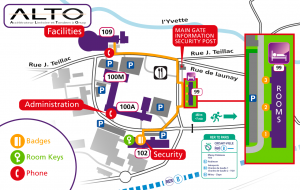 On leaving you should do the following:
Return your access badge to the same place you retrieved it.
If you booked a room, then you should leave your keys in the same place you retrieved them and pay your bill at the administration, building 100M.
We hope you have a profitable and pleasant time as a user of the ALTO facility and that you enjoy your stay in the ALTO Guest House if you booked a room.